Ohio State welcomes members of the media to our campuses as part of our land-grant mission to share our discoveries, innovations and expertise with the community and world.
All filming on The Ohio State University campuses requires prior approval from the Media and Public Relations team.
If you are interested in filming on our Columbus, Lima, Mansfield, Marion, Newark or Wooster ATI campuses, please email filmingrequests@osu.edu to begin the approval process and determine whether a location agreement is required.
Additional considerations
Any use of Ohio State trademarks or indicia must be approved in advance of production and in tandem with Location Agreement.

Flying drones to film anywhere on campus must adhere to the university policy on using unmanned aircraft systems. 

Basic Fees: There are fees for various spaces and locations across the Columbus campus. Additional costs for security, public services, facility rental, etc. will be the responsibility of the production company.

A general liability insurance certificate with limits of $1 million per occurrence required.

A walk-through of all proposed shooting locations must be coordinated with an appropriate Ohio State representative at least 10 days in advance of the desired production date. After locations are given tentative approval, the production company must take part in an initial meeting with representatives of all involved university departments.

Black-out dates: No filming is permitted during mid-terms, finals, and other relevant times and sensitive areas.
All requests will be evaluated and assessed based on alignment with the mission of the university, impact to the university's reputation, conflicts with existing agreements, and adherence to the university's no endorsement advertising policy and other governing standards.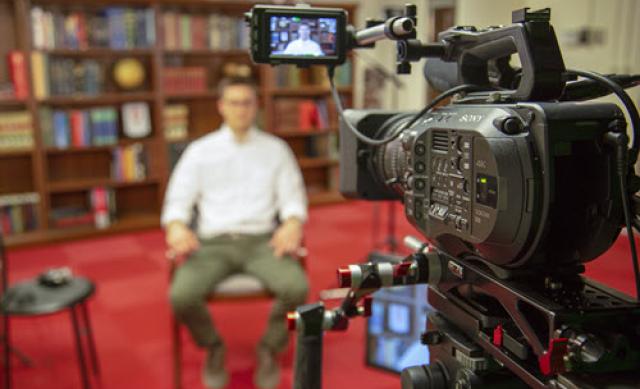 In-House Broadcast Studio
The new Columbus campus broadcast studio opens in 2023 with convenient access for interviews with Ohio State experts.