The Office of Marketing and Communications reaches a diverse audience through a mix of storytelling and distribution across a complex ecosystem of websites and channels. Our goal is to tell the Ohio State story and offer our audiences opportunities to engage with the Ohio State brand. Data reflected covers July 1 – September 30, 2022.
Share of Conversation
A key measure for Ohio State is the volume of conversation around the brand. We utilize social listening to compare our conversation volume to peer sets to determine share of voice across social media and select digital platforms such as the web, Reddit and YouTube for Q1 FY23. Ohio State is currently #1 among public peers and #2 among private peers relative to total volume of conversation.


News and Storytelling
The team produces hundreds of stories each quarter – delivering the news, covering the strategic initiatives of the institution, supporting our partners, highlighting our accomplishments and featuring our students, faculty and staff. In total, the team produced 128 new stories, generating 577,922 unique pageviews for the first quarter.
Explore the most popular new stories across our storytelling sites, determined by the total volume of unique pageviews during the first quarter of FY23.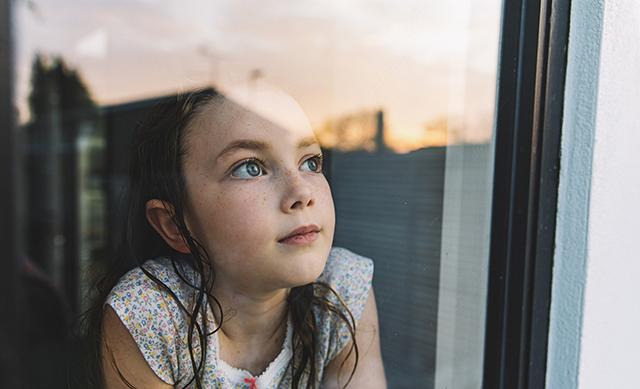 Young kids avoid one learning trap that often snares adults
Children have a secret power that helps them avoid a "learning trap" that adults may sometimes fall into: Kids just can't focus their attention.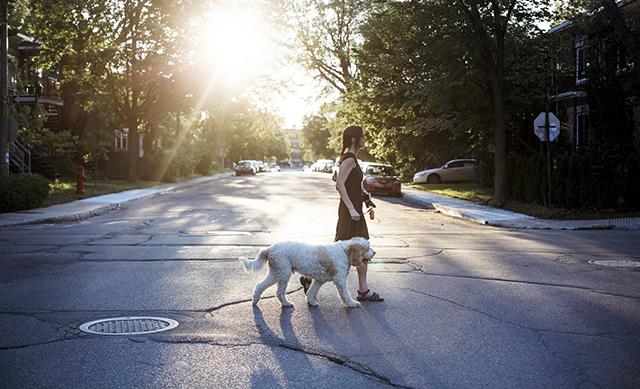 More dogs in the neighborhood often means less crime
If you want to find a safe neighborhood to live in, choose one where the residents trust each other – and have a lot of dogs to walk.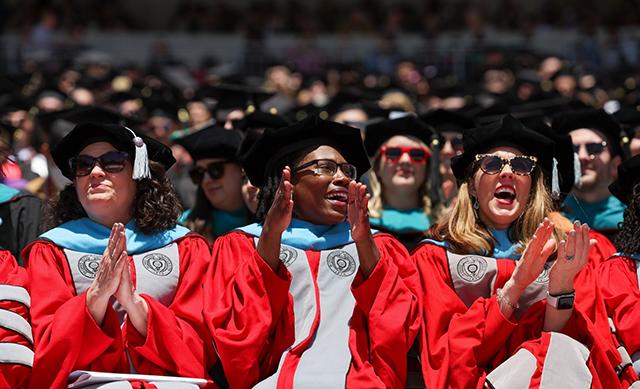 Ohio State releases spring 2022 dean's list and graduates
The spring 2022 semester ended with almost 22,000 students excelling academically at The Ohio State University.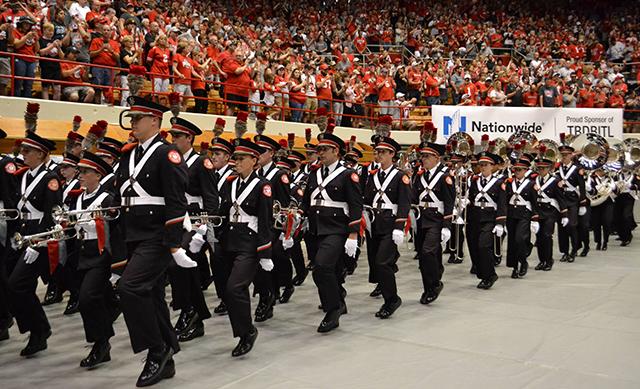 Skull Session livestream returns for new season
As the Ohio State football season is set to kick off with a prime-time showdown, a beloved pregame tradition is returning to the small screen.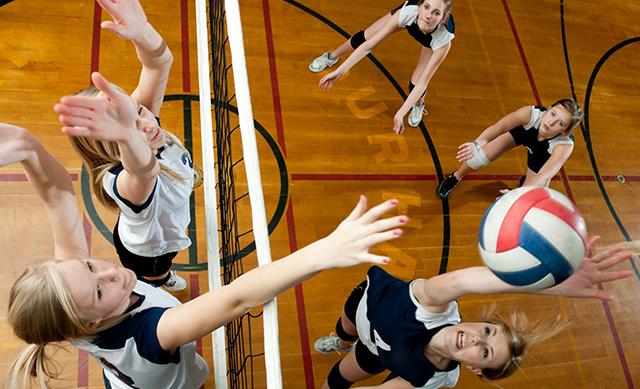 Sports help kids develop important trait linked to adult success
Here's another good reason for kids to participate in organized sports: They can develop the "grit" that helps them overcome challenges as adults, a new study suggests.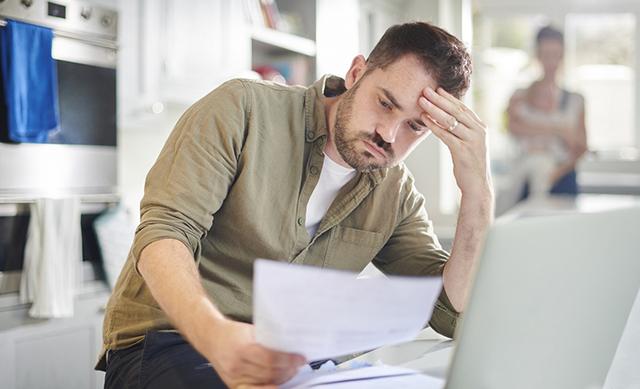 More people confident they know finances – despite the evidence
Financial literacy declined in America between 2009 and 2018, even while a growing number of people were overconfident about their understanding of finances, a new study finds.
Media Placements
Staff members within the Office of Marketing and Communications (OMC) utilize a strategic approach to media relations to enhance the reputation and visibility of the university through its work with local, regional, national and international media. The University was mentioned or featured more than 11,548 times in digital and print news publications during the reporting period.
1,939
Mentions in national outlets
39
Mentions in the New York Times
16
Mentions in CNN Online
2,355
Mentions in Ohio outlets
The Ohio State University president talks student debt, Big Ten football, and NIL rules
OSU president: Buckeyes, Wolverines putting rivalries aside in name of 'Silicon Heartland'
Ohio State lands up to $52M in new research funding to boost advanced manufacturing
Study: Dads' money woes can set stage for family conflict
Hate Listening to Chewing? You Might Have Misophonia
As Carbon Dioxide Grows More Abundant, Trees Grow Bigger
Featured Projects
Over the course of the year, professionals in the Office of Marketing and Communication will complete hundreds of projects in support of university initiatives. Explore the projects below to learn about some of our favorites, view our impact and see how we deliver a cohesive brand message throughout our work.
Enhanced digital ecosystem
Ohio State's digital ecosystem plays a critical role in helping our audiences deepen their understanding of the university. OMC is improving our own properties while guiding college and unit efforts to create a consistent experience for our web users.
The safety of both the campus and the off-campus area frequented by Ohio State students remains the university's top priority. Ensuring that students, faculty and staff were aware of existing and new safety enhancements is a top priority for FY23.
Expanding the use of text messaging
Over the last year, the Office of Marketing and Communications has expanded the use of text messaging at Ohio State. We continue to develop governance, while providing consultation and support.
For several years, the #BuckeyeLove campaign has been centered on compassion and acts of kindness as a way to engage audiences in rich and meaningful ways; demonstrate the ways Buckeyes are part of a caring community; and inspire our community to action.
Web Traffic
The Office of Marketing and Communications is responsible for some of the most trafficked pages across the osu.edu domain. We manage the front door, the news, key utilities and hundreds of story pages to support the brand experience in the digital space.
Most viewed features from osu.edu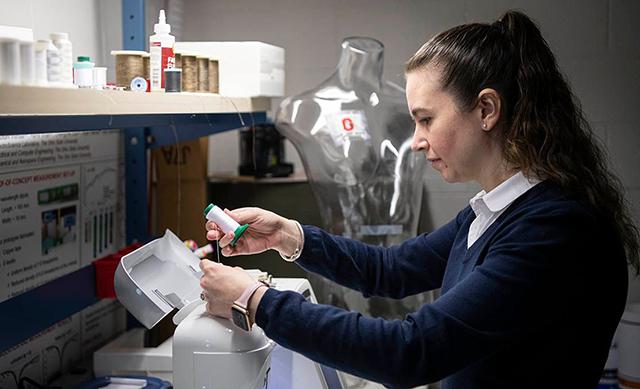 Advancing wearable technology for health care
Asimina Kiourti believes wearable tech can play a major role in improving and prolonging lives.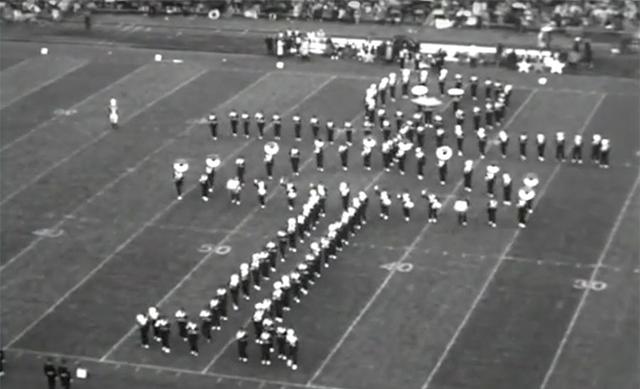 How Sloopy became a Buckeye
An Ohio State tradition since 1965
Working to reduce language barriers in health care
A group of students started Vocalize Columbus, a free medical interpretation service for people who need it most.
Social Media
Our teams develop timely, engaging posts with captivating videos and photographs to inform and engage our audiences on a variety of subjects, guided by university initiatives and priorities. Our goal is to deliver the right content to the right audience through the right platform to increase audience affinity, audience growth and engagement. In addition to publishing nearly 550 posts, that generated 34.8 million impressions and 2.8 million engagements this quarter. In Q1 FY23, The Ohio State University social media audience hit more than two million followers for the first time.
FY23 Q1 total followers: *2,040,176
Ohio State's total audience on social grew by 126,609 followers, a 33.4% increase in net follower growth from FY21.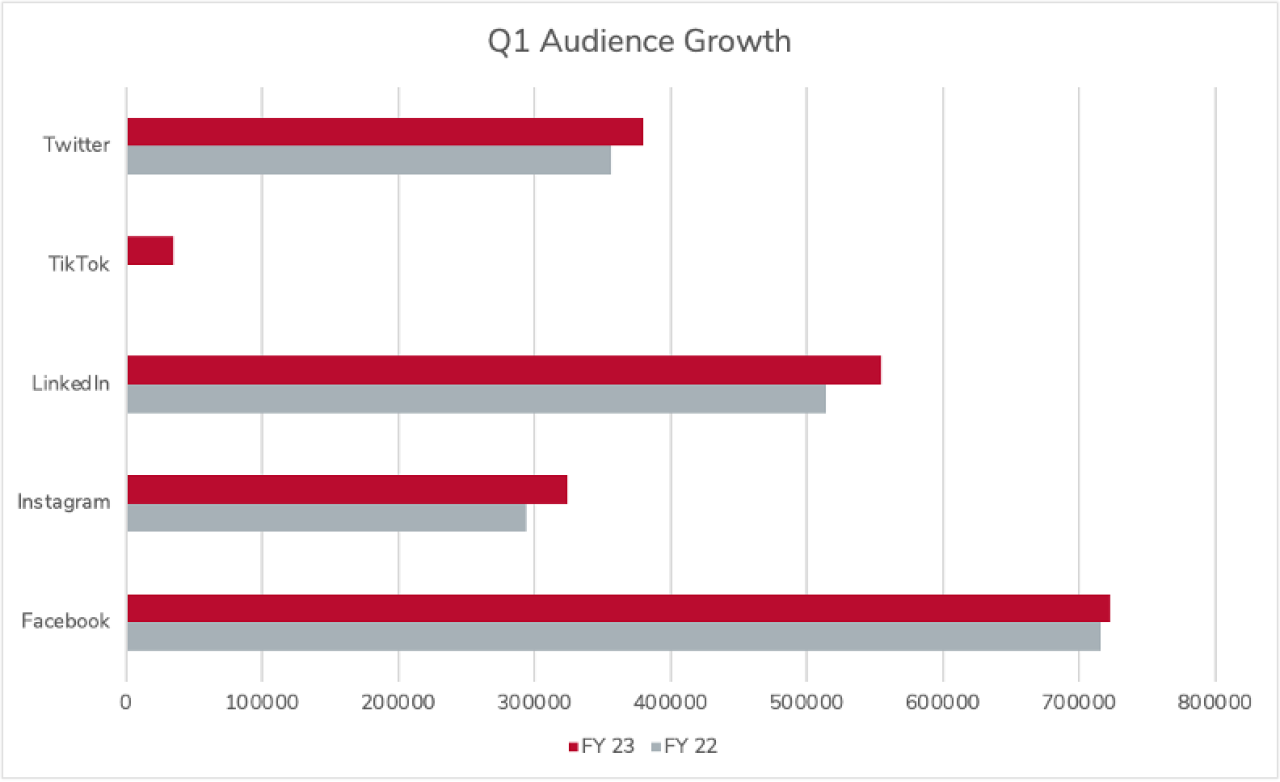 *Total includes YouTube subscribers which are not featured in the data set above.
Social media channels continue to drive a significant volume of impressions to bring awareness to the institution. Last fiscal year, we changed our strategy to a quality > quantity approach and adjusted our posting cadence to ~1x/day on each platform. We've also built a new strategy for paid social ads targeting multiple audiences. While this resulted in fewer impressions due to less volume, it positively impacted our audience growth, engagement and engagement rate. The impressions gained from paid social ads are not reflected in the data below.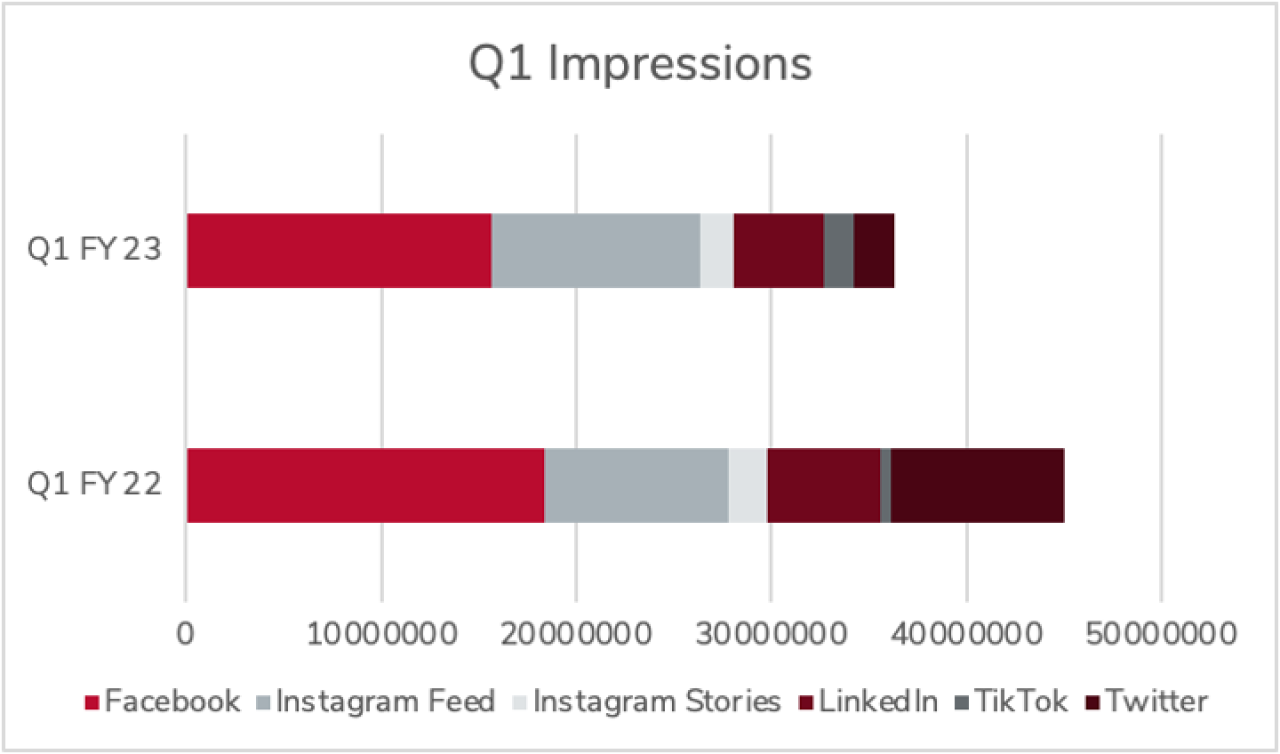 | Q1 | Platform  | Impressions  | Posts |
| --- | --- | --- | --- |
| FY22 | Facebook  | 18,333,510  | 949 |
| FY22 | Instagram Feed  | 9,416,045  | 333 |
| FY22 | Instagram Stories  | 1,992,280  | 401 |
| FY22 | LinkedIn  | 5,872,866  | 798 |
| FY22 | Twitter  | 8,821,003  | 1244 |
| FY22 | TikTok  | 537,148  | 595 |
| FY23 | Facebook  | 15,649,130  | 315 |
| FY23 | Instagram Feed  | 10,727,268  | 329 |
| FY23 | Instagram Stories  | 1,673,742  | 491 |
| FY23 | LinkedIn  | 4,639,870  | 450 |
| FY23 | Twitter  | 2,060,560  | 163 |
| FY23 | TikTok  | 1,524,703  | 2,343 |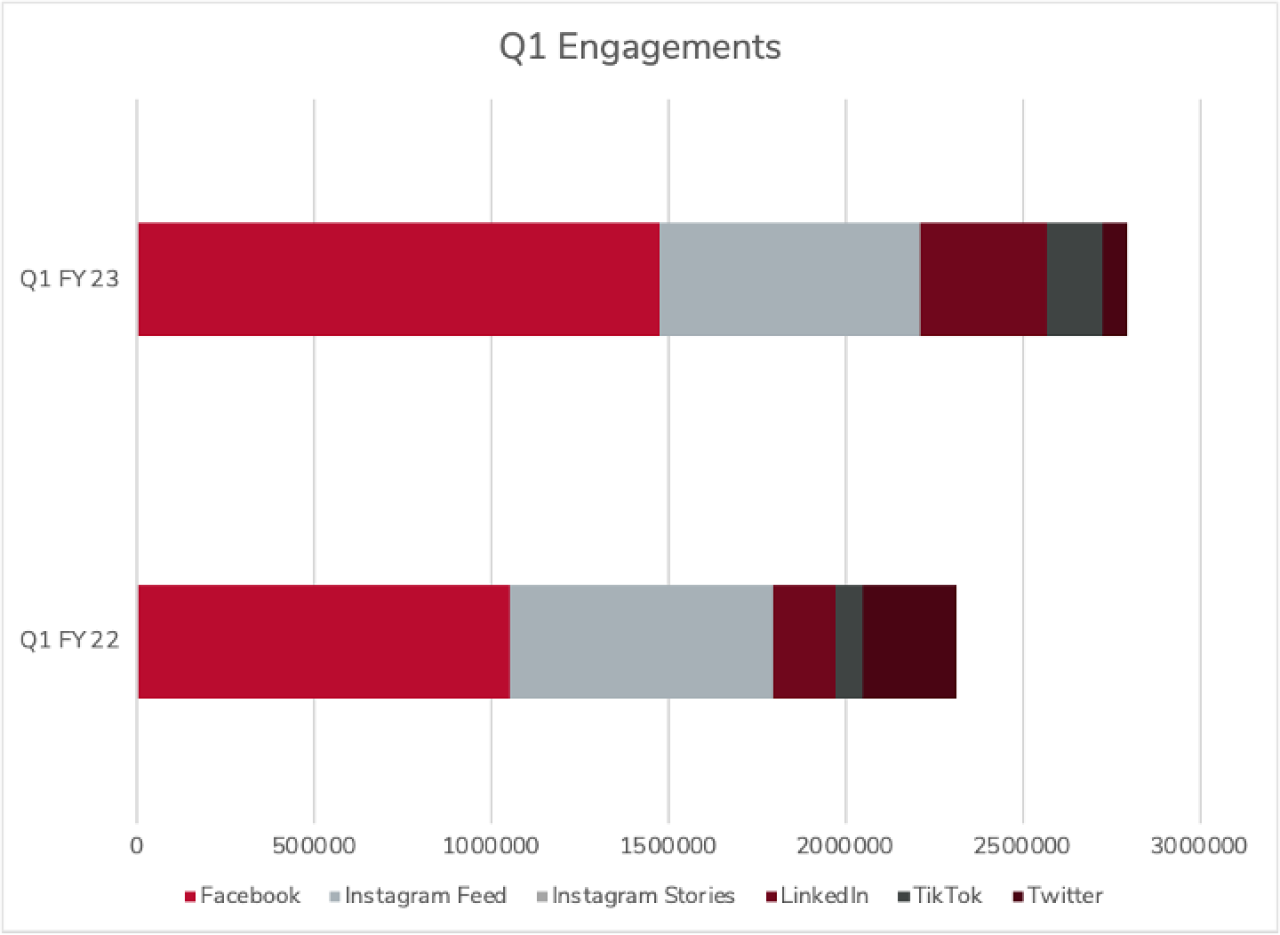 | Q1 | Platform | Engagements | Posts |
| --- | --- | --- | --- |
| FY 22 | Facebook | 1,051,776 | 191 |
| FY 22 | Instagram Feed | 743,068 | 93 |
| FY 22 | Instagram Stories | 562 | 87 |
| FY 22 | LinkedIn | 177,013 | 171 |
| FY 22 | Twitter | 263,136 | 166 |
| FY 22 | TikTok | 76,748 | 24 |
| FY 23 | Facebook | 1,474,946 | 125 |
| FY 23 | Instagram Feed | 733,341 | 71 |
| FY 23 | Instagram Stories | 570 | 85 |
| FY 23 | LinkedIn | 359,754 | 92 |
| FY 23 | Twitter | 70,318 | 90 |
| FY 23 | TikTok | 157,350 | 52 |
Ohio State is #1 among public peers and #1 against Big 10 peers in total engagements generated across Twitter, Instagram and Facebook.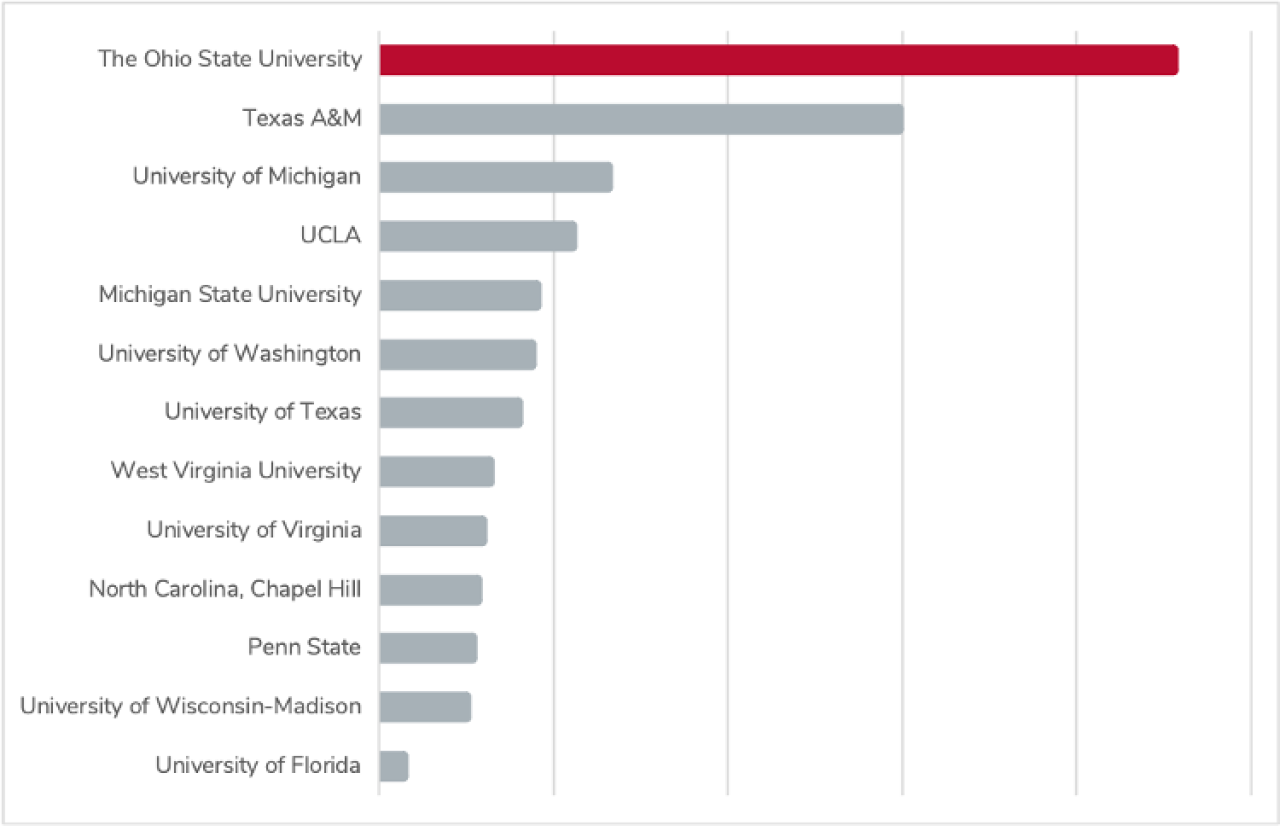 Ohio State is #1 among all private peers. The chart reflects total engagements generated across Twitter, Instagram and Facebook.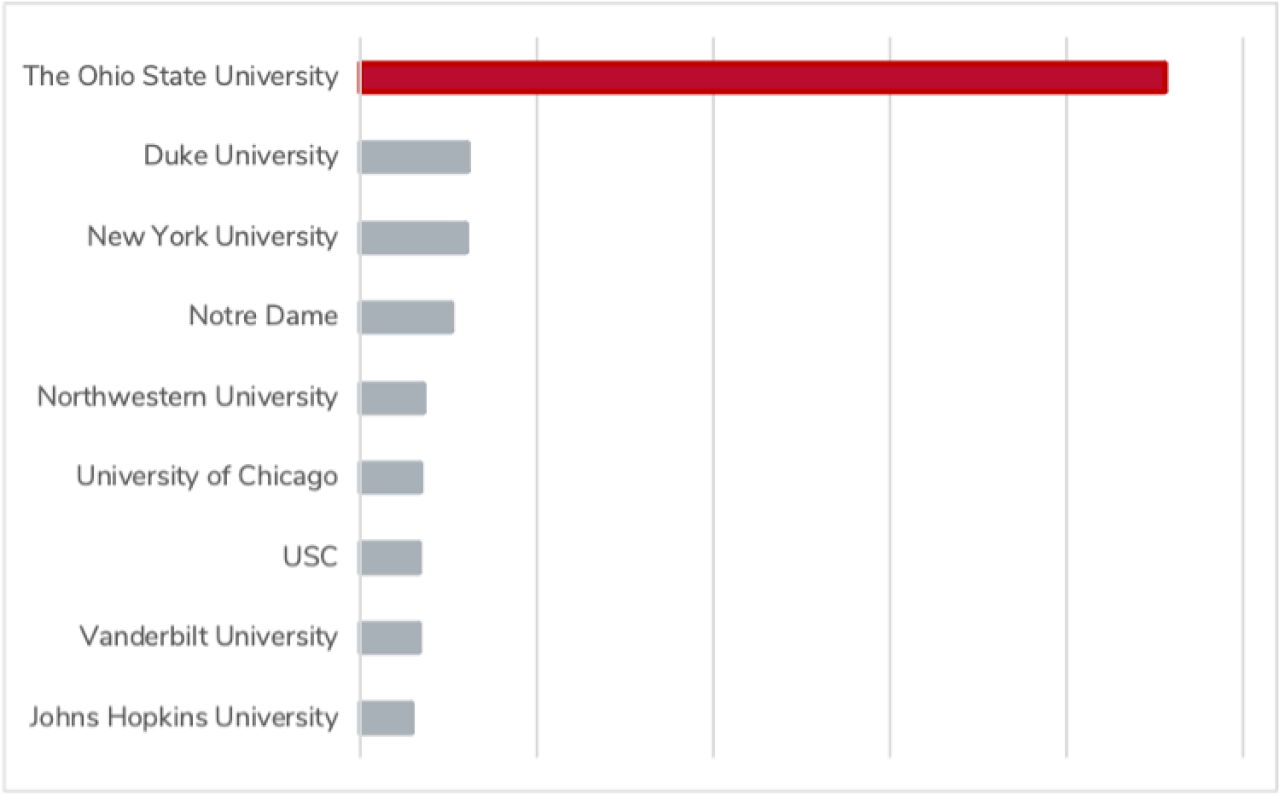 Data Notes
Data for this page is managed by the Marketing Performance Analytics team. Definitions are common across the Marketing and Analytics community. Learn more below about what is collected to create this page or contact adv-marketinganalytics@osu.edu with questions.
Total volume is determined via a detailed listening query in Sprout Social designed to capture a brand's common name and mentions of key social handles, including the enterprise, research and health center for each school. The volume is then split into athletic and non-athletic volume via a keyword list for athletics. The athletics keyword list is continuously growing and common across all competitors. For details on the query parameters, please contact adv-marketinganalytics@osu.edu. Only accounts with unrestricted permissions can be captured by social listening tools. A user that mentions Ohio State, but limits access to view their content will not be included.
Four primary content vehicles are used by the Office of Marketing and Communication for storytelling and news publishing on the osu.edu domain.
Ohio State News – Ohio State News delivers timely, trustworthy news to connect you to Ohio State's impact on your life, your community and your world. Ohio State News offers exclusive coverage of developments on and around campus, scientific discoveries, national and global issues, the arts and Buckeye sports. Includes content published at news.osu.edu.
Featured Stories – Stories reflect the strengths and vitality of The Ohio State University. This content emphasizes student success, faculty excellence, institutional research prowess and other aspects of the Ohio State experience that appeal to future students and other key audiences. Includes content published at osu.edu/features/.
Ohio State Alumni Magazine – Published four times a year, Ohio State Alumni Magazine helps you stay up to date on friends and former classmates; happenings around the Oval and beyond; and local, national and international issues with an Ohio State connection. Life and sustaining members of the Alumni Association receive a print version of the magazine. Digital content published at osu.edu/alumni/news/ohio-state-alumni-magazine.
Ohio State uses Cision to track media placements across news sites and blogs. Posts on social networking sites are not included in these values. Media placements include online outlets and offline print outlets.
Media placement – An article, as defined by the Cision platform: a piece of published content that contains a headline, content and a publish date.

National distribution outlets – News outlets that have a national, rather than local distribution. For our purposes, national distribution outlets are limited to those based in the United States and do not include international outlets.
Source: https://help.cision.com/help/how-news-monitoring-works
Ohio State uses Google Analytics to track web traffic and behaviors across the osu.edu domain.
User - An individual person browsing your website (technically, a unique browser cookie). Each user can visit your website multiple times, for example, 1 user could create 3 sessions on your website, with each session containing multiple pageviews.

Unique Pageviews – Counts a page once even if it was viewed multiple times within a single session. For example, if someone landed on your homepage, then viewed the 'about us' page and then navigated back to your homepage, the homepage would have 1 unique pageview (even though the page was viewed twice during the session).

Shares of Content – The sum social share events captured in Google Analytics during the reporting period. Social share events are triggered when a user clicks on a link to a social source and the text or attribute "share/sharing" on it. This covers most examples of share buttons and functionality. This event is also triggered when sharing via email links often located next to social sharing buttons.

Video Plays - The sum video play events captured in Google Analytics during the reporting period. Video play events are triggered when a user clicks to play a video that's been embedded to a page from YouTube or Vimeo.
Ohio State uses Sprout Social to track social media performance and SEMRush to monitor peers in the social space.
Audience -  audience volume depicted in the graph comes from Sprout Social and represents the maximum audience volume at the end of month of the reporting period. These values represent fans or followers of the account.

Engagement - total engagement depicted in the graph comes from Sprout Social and represents the sum of engagements during the reporting period. Ohio State counts the following actions as engagements: applause (likes, favorites, hearts), conversation (comments, replies), amplification (shares, retweets), link clicks, immersive clicks (photo views, saves) and video plays.

Competitive - The total engagement volume for competitive positioning is collected via SEMRush and includes reactions, comments and shares from Twitter, Instagram and Facebook. For competitive positioning, we use the SEMRush value for Ohio State engagement to ensure comparing data apples to data apples.
Ohio State uses Salesforce Marketing Cloud and PressPages to deliver email newsletters and email communication to external and internal audiences. The primary newsletters distributed include:
onCampus Today and onCampus Weekly are email newsletters that keep Ohio State faculty, staff and students informed, interested and inspired about what is happening at the university. o

nCampus Today is sent to nearly 43,000 faculty and staff daily, and onCampus Weekly has both undergraduate and graduate/professional versions sent to almost 75,000 students each weekend.
Notes from a Fellow Buckeye is President Johnson's newsletter to internal audiences at Ohio State, reflecting on her time at the institution and key messages.
Ohio State News is an external newsletter with roughly 2,000 subscribers through which we distribute research and institutional owned news.
Roughly 240,000 alumni of the institution receive monthly emails featuring content from the latest edition of the Ohio State Alumni magazine. These emails enable alumni to engage with the brand on a consistent basis.