If you were asked to describe Ohio State to someone unfamiliar with it, where would you start?
Our amazing students and award-winning faculty?
Maybe the talented minds who discover research breakthroughs and innovations?
The Buckeyes across Ohio who serve and educate in their communities?
We have a pretty good marching band, too.
There are a number of things that make Ohio State special and relevant. Explaining these elements was something we embraced as we reimagined osu.edu. This week, we are launching an improved osu.edu, and we're excited about how it can improve the effectiveness of how we convey the great things happening at Ohio State, and how they are particularly meaningful today. 
Our redesign process started two years ago with a deep evaluation of our current site that involved data analysis, interviews with site users and an assessment of site strengths and opportunities. That research later extended to including a review of 16 peer and brand websites and more internal and external audience interviews. These inputs helped shape our plan.
One point was abundantly clear upon concluding our research: we had an opportunity enhance the site in ways that give visitors a better view of what's happening now at Ohio State, and how it makes a difference. As I mentioned earlier, the website is a place for us to start to build awareness of Ohio State's relevance in society today. A more clean, concise and focused site can help achieve that goal.
To get to that goal, here are some of the specific changes we've made.
Improved search capability
Web traffic data at osu.edu indicates search is used heavily by most site visitors. We created a federated search that combines multiple search functionalities (Find People, maps, A-Z listings, etc.) into one. If you click the magnifying glass at the top right of the page, a search window will expand. Begin typing what you are looking for, whether it's a person, a location or a major. If you are having a hard time finding something, the improved search can get you there faster.
Osu.edu's improved search finds people, places and websites based on search words.
Reimagined audience index pages
Many of the audiences responded negatively to the approach we had taken to index pages on the site. These are audience and topic pages, such as current students, academics, future students and research that are featured in our main navigation. Those pages have been comprised of extensive link lists that break down web destinations to a very granular level. While intended to be useful, they weren't. These pages usually had up to 75 links, but only three or four were being consistently used. We've moved away from these links in favor of an experience that can deliver a visitor more quickly to the information they need. A tip with these pages? They do a much better job of providing you the quick info you need. Considering setting the one most pertinent to you as your desktop computer homescreen.
More visuals and storytelling
Our review of other websites told us pretty clearly that we were not using imagery or storytelling effectively enough to convey the important things happening at Ohio State. The redesigned site features more storytelling entry points and significantly more images that can give our visitors an immersive experience without stepping on campus.
Better mobile experience
As we built this new iteration of osu.edu, we did so with a mobile-first approach to design that elevates the mobile experience. Given that many users are experiencing our site through phones and tablets, we think those visitors are going to have a better and more engaging experience.
The redesigned webpage, including the Current Students webpage, offers a better mobile experience.
Some new pages
There are two new pages that are a part of osu.edu navigation. First, we've added an About page to our site. This page gives you a high-level look at all the things that make Ohio State relevant to the many communities it serves.
We also added a new content website to the site, Ohio State Impact. This new website gives us the opportunity to spotlight some of the other great work happening around Ohio State's campus. We're excited about the site and the chance it gives us to more effectively tell the story of our institution and its people.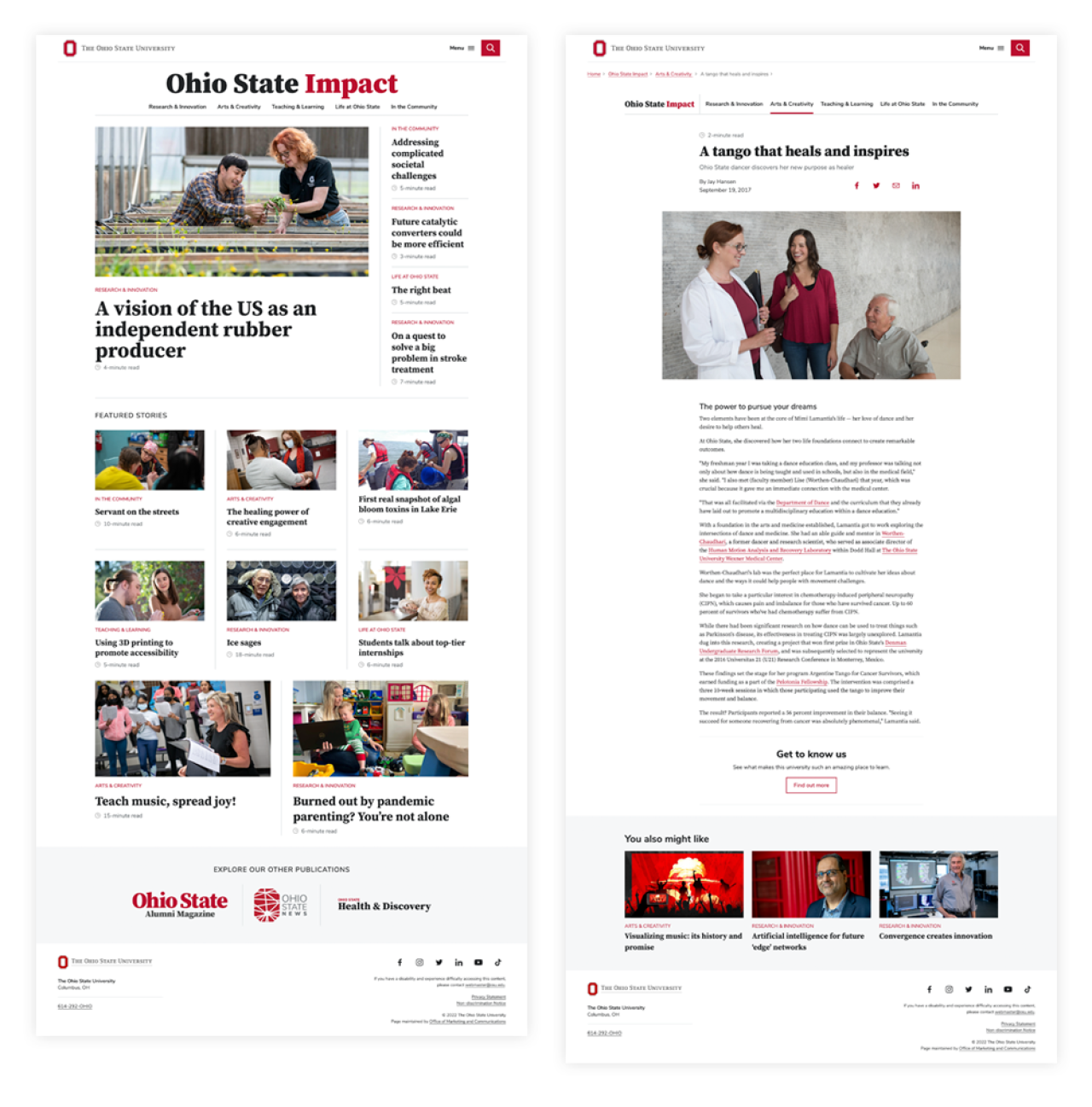 Tell us what you think.
When you have had a chance to explore the new osu.edu, give us some feedback.
So what's next?
Over the next few months we'll be listening to audience feedback and seeing how the site is working for those who visit. As we get a better understanding of what is effective and what isn't, we'll revise and adjust to ensure that we are meeting our audiences' wants and needs. 
Our team will engage in site testing and long-term road mapping to ensure we are keeping up as the environment changes around us. Ohio State is a dynamic university that needs a website to reflect that dynamism. With a reimagined web experience now a reality, we're closer to our goal.
By Jay Hansen
Senior Director, Brand storytelling
Every day, Ohio State is building the world people need so they can thrive: Our researchers driving innovation and discoveries. Our faculty and staff preparing students as future leaders. Our healthcare workers focused on delivering personalized and comprehensive patient care. Our students shaping ideas that will benefit today and into the future. And so many more. Our reimagined website is designed to give a better view into what's happening now at Ohio State.
The reimagined faculty-staff page at osu.edu is the best starting point to find resources and is a great destination to set as your browser default page. This page features resources and will be updated periodically with timely calls to action. Faculty and staff members are also encouraged to use the improved Search function at osu.edu to find specific pages within osu.edu that are pertinent to their needs. The page is also available via a link in the osu.edu page footer. 
Yes. While some page URLs have slightly changed as part of the osu.edu's upgrade, older URLs will re-direct to the new page. If you notice a bookmarked page URL has changed, we recommend updating your bookmark to the new URL within 6 months.
"Find People" has been incorporated into the improved search functionality at osu.edu. To access, click the magnifying glass at the top right of pages within reimagined pages on the osu.edu domain. A search bar will expand. You can use the bar to search whole name (Jane Smith) or partial last name (Smit) or even partial first name and partial last name (ja smit). You can also search a name.number to get details about a person and then copy and share a contact card.
You can filter a large number of results by employee or student to narrow your results.
If a site still features Find People as part of the navigation bar at the very top of the page, you can click Find People and it will re-direct you to the enhanced search page where you can search either complete or partial names in the search box.
You are still able to access both Buckeye Link and Ohio State Webmail and those sites are not changing. If you frequently use those sites, you can bookmark them on your computer browser for ease of access. If you don't bookmark the sites, you can use the search bar and search Buckeye Link or Webmail. Links to both will appear as results under Websites.
Campus maps are being upgraded as part of the second phase of the osu.edu redesign process. For now, you can access campus maps at the same URL as previously, and you can bookmark this page on your computer browser if you use the maps frequently. If you don't bookmark the page, you can use the search Campus Map and a link to the page will appear as a result under Websites. 
Yes, to submit your site for consideration for inclusion on the A-Z list you can request a link. While inclusion on the A-Z listing gives your site visibility, you should also ensure your page is optimized for search.
Ohio State Impact is a new storytelling website that's been created as part of the osu.edu redesign. The site improves our ability to demonstrate how Ohio State's education, research, outreach and health care positively impacts many communities. For more information on contributing to the Ohio State Impact platform, contact Jay Hansen (.208), senior director of brand storytelling.