onCampus advertising
Advertise your message to Ohio State faculty, staff and students in the onCampus email newsletter
Ohio State's onCampus emails allow for limited paid advertising units in each issue. Advertisers may be from within the university or outside the university.
Space is available on a first-come, first-served basis and is limited to five ads per issue. 
Specifications: Advertisements will be no more than 75 words in length, and should include contact information (email or phone number) as well as a URL. Images should be 150x150 pixels, 72DPI (dots per inch) and JPG or PNG files. 
We reserve the right to reject or cancel any advertisement for any reason, including, without limitation, advertisements that advocate sedition or other illegal actions; promote activities that are detrimental or damaging to Ohio State; or may be construed as defamatory, invasive of privacy, fraudulent or obscene. We do not accept advertising for the sale of alcohol, tobacco products or firearms. 
Acceptable payments for advertising units
University departments, units, programs and organizations that advertise must provide payment by submitting a purchase order in Workday. Advertisers from outside Ohio State can pay by check and mail it to the university. Please contact adsales@osu.edu for payment information.
What does a typical advertisement look like?
Here are three examples of acceptable advertisements.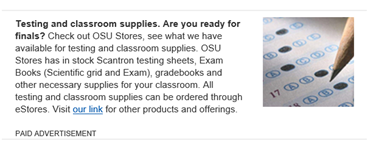 How do I get started?
New advertisers should review the rate card and then email adsales@osu.edu to set up an account. 
Next, choose an available calendar date, and we'll prepare an insertion order to confirm your booked date(s). You'll get email instructions from the ad sales team about how to submit your advertisement through our Workfront request system. You will submit your advertisement content and will be notified when it scheduled for inclusion. 
You can request a copy of the issue when your advertisement runs. This is not done automatically, so you will need to reach out to the ad sales team in order for that to be forwarded over to you. 
No cancellations of advertisement placements can be made after 10 business days prior to the publishing date. If a reschedule is needed, please contact the advertising sales team and they will assist you on a case-by-case basis.
All requests require at least five business days' notice. The farther in advance you request ads, the better, as space fills quickly and may not be available if the request is made too late. 
A sponsorship advertisement is a full week of ads which include the text and an image in the first ad spot of each issue for the week.