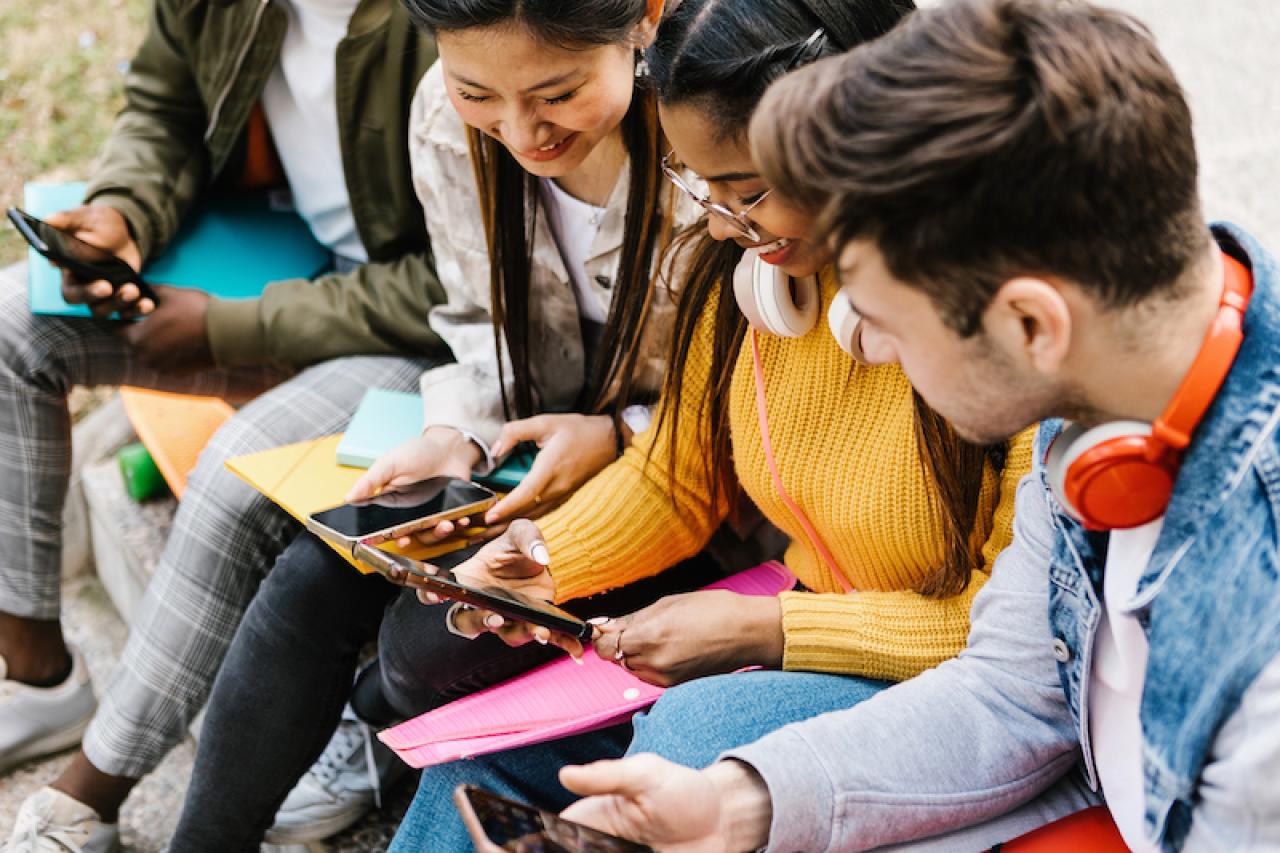 What is social media accessibility? 
Social media accessibility is the practice of ensuring that every piece of content we publish on social media is accessible and consumable for our entire community.
All content should be accessible by all users. 
Stay up to date on best practices/trends related to digital accessibility. Follow the hashtags: #a11y, #accessibility, #GAAD for additional information from industry professionals and peers.
Why is social media accessibility important? 
Seven out of ten Americans use social media, and one in four adults in America lives with a disability.  
Disabilities can include difficulties or impairments (temporary or permanent) with vision, hearing, cognition or mobility. People with disabilities often use assistive technology to access digital content in their preferred format. Examples include: 
Screen readers or magnifiers 

Closed captioning 

Voice command 

Spelling and grammar tools 

Mind or site maps 
Four reasons you should be creating accessible content: 
Compassion for others—you care about your audiences as human beings 
Disability affects all of us—everyone at some point or another will be disabled 
Marketing reach—you want your content to be engaged by as many people as possible 
Legality and compliance—the American Disabilities Act (ADA) is regularly clarifying the critical need for compliance in digital marketing/communications. 
To properly embody the values of The Ohio State University, we must "understand that diversity and inclusion are essential components of our excellence." 
---
Best Practices 
General Content Guidelines 
Be inclusive with your content. Representing people from underrepresented backgrounds is non-negotiable. It's important to always use inclusive language (e.g., abilities, language, gender, age...etc.). 
Text/Copy 
Social media content that is easy to read and understand will be more accessible for everyone, including people with cognitive disabilities and non-native English speakers. 
Don't rely on the image or graphic to relay essential information (dates, times, location...etc.)—include essential information in the copy of your post. 

Write using clear prose in short sentences and paragraphs. 

Keep an active voice with uncomplicated words. 

Avoid jargon and be sure to spell out acronyms on the first reference, especially since these can be confusing when read separately without context or explanation. 

DO NOT use non-native fonts (see how a screen reader tries to tackle those) .

Try reading content out loud to make sure it is clear. 
Hashtags 
Hashtags can be a great tool to connect with a larger audience but make sure they don't add mystery to the message you are trying to convey. 
Be strategic and concise with hashtags you create yourself.

Use branded hashtags to join the conversation with other units across campus (e.g., #GoBucks, #OSUGrad...etc.). 

Minimize the number of hashtags to three or fewer and only use them when necessary or part of a campaign. 

Use "CamelCase" by capitalizing the first letter of each word to add additional clarity (e.g., #OhioState, #BuckeyeBound, #GoBucks) 
Emojis 
Emoji are a great tool to further develop your voice and lighten messages on social media. Screen readers and text-to-speech technology use the official term of the emoji which can cause confusion. 
🐶🤣🏇🎉  = "Dog Face Rolling on the Floor Laughing Horse Racing Party Popper" 
Keep emoji use to one or two per post. 

Don't include emojis in profile names. 

Use emojis at the end of sentences or preferably, at the end of posts. 
Visit emojipedia.org for official emoji names 
Imagery 
Engaging imagery can make your content more appealing to your audiences. Alt Text (Alternative Text) should be used to provide textual alternatives to the imagery. 
Be succinct. Some screen readers will subdivide alt text that is more than 125 characters. 

Describe the content of the image without editorializing. Say what you see—and don't make assumptions about ethnicity, gender, what's happening out of shot, a subject's motivations...etc. 

Avoid redundancy. No need to include "Image of…" in the description since the alt attribute implies that information. 

Capitalize the first letter and end with a period, which makes the screen reader pause after the last word. 

Use dashes for acronyms, otherwise, the screen reader tries to read the acronym as a word. For example, you might write "USA" as "U-S-A" in the alt text so the screen reader doesn't pronounce it as "usa." 
Currently, Sprout Social allows you to add alt text to images uploaded to Facebook, Twitter and LinkedIn. 
Each platform allows you to add alt text natively. Learn how by visiting the how-to pages for each platform: 
Graphics and Charts 
Any important information that contained in a graphic should be easily readable and conveyed in the alt text or post copy (e.g., a graphic with event details). Additional tips: 
Don't rely solely on color to convey meaning 

Layer crosshatch, dots, or stripes over sections of a bar or pie chart to differentiate meaning  

Labeling each part of a chart with words and percentages 
Video Content 
Adding captions is one of the simplest ways to improve your accessibility. Research shows that: 
69% of consumers view video content with the sound off 

80% of consumers said they're more likely to watch an entire video when it has captions 

50% of consumers expect captioning to be provided 
There are three caption options you can choose from: 
Closed Captions 
An .SRT file is a common file type for closed captions. This file can be uploaded on many social media sites alongside your video and will play when the video plays with toggle on/off capabilities. The benefit of a separate .SRT file is that you can edit and control exactly what is being displayed (which is particularly important for accuracy with proper nouns). 

.SRT files can be added to videos on Facebook, LinkedIn, Twitter, YouTube, and Vimeo. It is best practice to upload the file at the same time as posting your video as not all platforms allow you to go back and make edits. 

Rev can all create closed caption files for you at a reasonable rate.  
Open Captions (burn-in) 
This is sometimes a necessary option, especially if a media platform does not allow .SRT uploads. This means that the video file has the text rendered as part of the final image. A video editing software or service can frequently accomplish "burning" in. Additionally, many open captions can be further stylized regarding font, color, design and motion. 

Make sure open captions are sized properly and aligned for the platform you are posting on (each platform has a different user interface, and you don't want captions hidden below the engagement tools/profile information). 

Sans serif fonts typically have the best readability with captions. 

Instagram Stories and Reels allow you to auto-generate captions that are editable, but they are burned into the video. Pinterest and Snapchat do not have either .SRT or auto-caption support, so consider burning in text on these platforms as well. 

Adobe Premiere Pro has recently been updated to include an auto-caption setting that can be used to add open captions to your content. 

There are also several mobile apps that are available for creating open captions, including AutoCap, MixCaptions, Clipomatic, Kapwing and Clips. 
Auto Closed Captions 
Auto-captioning is available on several popular social media platforms. In this case, the sites will run captions with your video at no cost. These transcriptions are generated automatically by machine learning technology. Proper nouns and accents can affect their accuracy and the generated captions should be double-checked and edited, if possible. 

Facebook, YouTube, Instagram, LinkedIn and TikTok have auto-captioning capabilities. On Facebook, YouTube and TikTok you can edit the auto-captions once they are generated. YouTube also allows you to download a .SRT file of your captions that could be uploaded to another platform. 

When editing an Instagram Story or Reel, auto-captions can be generated, edited and burned into the video (see above). 

If auto-captions are not added during the edit process, there is a feature in the advanced settings to add closed captions. These cannot be edited. 
Transcripts for Live Broadcasts 
If you're creating podcasts or hosting audio-only rooms via Clubhouse or Twitter Spaces, consider having transcripts of dialogue and/or non-spoken audio information created.